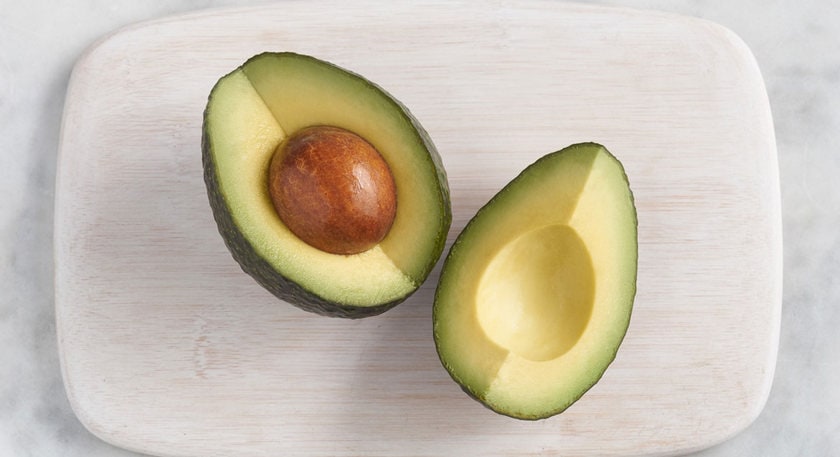 The News is Out!
Avocados Deliver a Good Source of Fiber & Folate with an Official New Serving Size!
Yes it's true – Avocados recently got a much needed serving size makeover. Drum roll please…
As of July 26, 2016, the avocado serving size is officially 1/3 of a medium avocado, or 50 grams of avocado, which is great news for avocado lovers because one serving of this creamy fruit now delivers 11% of the Daily Value (DV) for fiber and 10% DV for folate. That's up from 1/5 of a medium avocado (or 30 grams), the serving size previously set by the U.S. Food and Drug Administration (FDA), the government agency charged with establishing the serving sizes of foods. So why the change?
It's About Time…
…for a little background, by law the serving sizes reflect what people really consume, not what they should consume. The idea being that when people look at the calories and other nutrients on the Nutrition Facts panel of food labels, the listed serving size lines up more closely with what they're truly eating. In other words, serving sizes should be realistic (realistically 1/5 of a single avocado just leaves me wanting more, right?). The FDA hasn't updated serving sizes since 1993 and not surprisingly how much Americans eat has changed a lot over the last two decades. Long story short, the FDA took a look at recent food consumption data and concluded that in today's world serving sizes of many common foods needed to be adjusted, avocado being one of them.
Avocado by the (Nutrient) Numbers
Not only are avocados a good source of fiber and folate, you get more nutrient bang now per single avocado serving. At 80 calories, that 1/3 of a medium (50 grams) California Avocado brings with it 6 grams of good fats, 6% of the DV for potassium and vitamin E, 4% of the DV for vitamin C, and 135 micrograms of the carotenoids lutein + zeaxanthin (just to name a few). And how might these nutrients impact your health?
Here's a primer on avocado nutrients:
Fiber adds bulk to your diet and can help keep you feeling full faster and longer. What's more, consuming foods rich in fiber, as part of a healthy diet, may reduce the risk of heart disease, obesity and diabetes
The body needs some dietary fat in moderation to help with absorption of nutrients. Good fats, monounsaturated and polyunsaturated fats found in avocados, do not raise LDL ("bad") cholesterol levels. In fact, good fats are recommended as a replacement for bad fats (saturated)
A diet rich in potassium helps to offset some of the harmful effects of sodium on blood pressure
As an antioxidant vitamin E protects body tissue from damage and helps keep the immune system strong against viruses and bacteria
Vitamin C is also an antioxidant that may contribute to healthy immune function and it's essential for the growth and repair of tissue all over the body
Lutein and zeaxanthin are plant pigments found in the macula of the eye, and some research suggests that they may help maintain eye health as we age
Cutting an Avocado into Thirds
Again all good news but from a practical standpoint, just how do you cut and prepare a 1/3 avocado serving size to obtain all that natural goodness? It's actually pretty easy and rather than tell you, better to show you. Take a look at this short video on How To Cut & Peel a California Avocado from Registered Dietitian Nutritionist (RDN) Manuel Villacorta, MS who takes you through step by step.

Here are the steps to cut and peel a California Avocado:
First and foremost, like any other fruit, wash the avocado before cutting
Place avocado on a cutting board and make one cut from the top to the bottom on one side (do not go all the way around)
Turn the avocado 120 degrees (1/3 of the way around) and make the same cut
Break apart, pull out the 1/3 avocado
Peel away the skin from the 1/3 avocado and slice as desired
Now it's your turn to cut and peel a delicious, nutritious, creamy California Avocado to enjoy with your favorite dishes. If you need some ideas, here are some yummy registered dietitian approved recipes.