Fresh California Avocado and Turkey Sandwich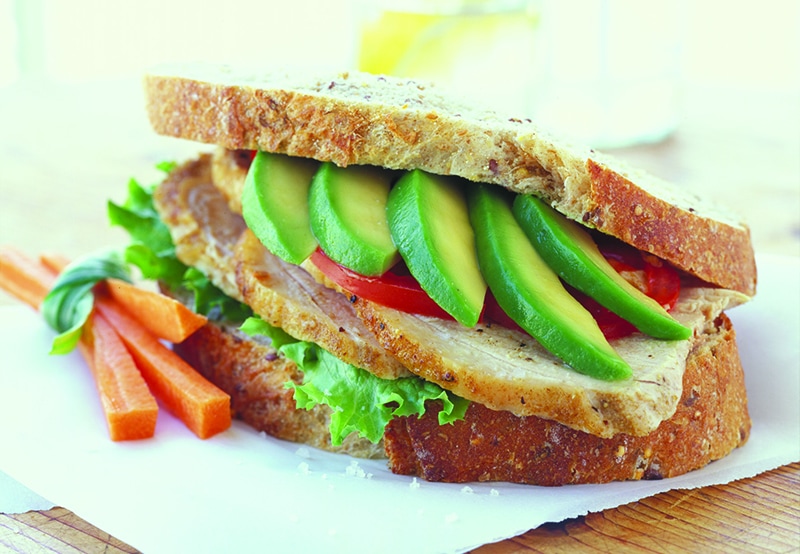 8
slices of bread
4
leaves of lettuce
1
lb.
turkey, sliced
8
tomato slices
Salt and pepper,

to taste

2
ripe, Fresh California Avocados,

peeled, seeded and sliced*
Instructions
Start with 2 slices of your favorite bread (toasting is optional). On 1 slice, layer a leaf or two of lettuce, about 4 ounces of sliced turkey and juicy tomato slices.
On the other slice fan the slices from one-half of a ripe California Avocado. Salt and pepper to your liking.
Unite the two sides and dig in.
VARIATIONS
Add a couple of strips of cooked bacon.
Slather one slice of bread with Dijon mustard, then smear the avocado half and press dried cranberries into the avocado.
Roughly mash the avocado with lime and diced chipotle chili pepper before smearing.
Substitute grilled chicken
Serving Suggestions:
For a school lunch treat, spread one slice of bread with your child's favorite jam or jelly before adding the lettuce layer.
*Large avocados are recommended for this recipe. A large avocado averages about 8 ounces. If using smaller or larger size avocados adjust the quantity accordingly.