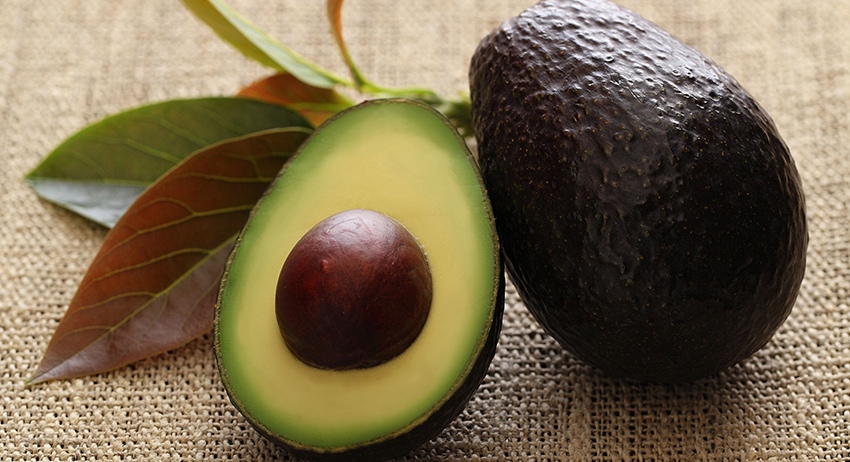 California Avocado fans have long said that California Avocados are good for you and, for years health professionals have called them healthy. FDA identifies them as a heart-healthy nutrient-dense fruit meaning they provide substantial amounts of vitamins, minerals and other nutrients with relatively few calories.

Our versatile fruit can be eaten alone or used in a variety of tasty recipes – from soups to salads to smoothies – all of which can fit into a sensible eating plan. California Avocados are good you're your heart, great for your soul, with good fats that love you back!
*While many factors affect heart disease, diets low in saturated fat and cholesterol may reduce the risk of heart disease.
Here's what Bonnie Taub-Dix, Registered Dietitian for the California Avocado Commission, and a healthcare professional with a private practice tells her patients:
"Ever find it hard to fit in the amount of fruits and vegetables you should be eating each day? The simple solution might be to try to seamlessly weave them into your everyday meals. Whether it's a few slices of California Avocado on your turkey sandwich, some berries in your oatmeal or some spinach in your smoothie, you can get all the goodness that produce provides, including vitamins, minerals, fiber and deliciousness, with just a little creativity and a desire to do something good for your mind and body."
Bonnie Taub-Dix, RDN, creator of BetterThanDieting.com and author of Read it Before You Eat It – Taking You from Label to Table.

Living a healthy lifestyle does not have to be difficult. Start by reading the Nutrition Facts panel before you buy food, preparing healthy meals and getting regular exercise. The Dietary Guidelines For Americans and American Heart Association® recommendations are to eat a variety of fruits and vegetables to help control weight, cholesterol and blood pressure. Heart-healthy* avocados are actually a nutritious fruit and a good source of fiber. Fiber can help you feel fuller faster, which can increase satiety and help manage weight. One-third of a medium avocado (50 g) has 80 calories and contributes "good" fats and nearly 20 vitamins and minerals, making it a nutrient-rich choice.
RECIPES FOR HEART-HEALTHY CALIFORNIA AVOCADOS
Now comes the fun part! Try some of our delicious and nutritious recipes featuring California Avocados, one of America's favorite heart-healthy fruits.
California Avocados help make those moments delicious, memorable – and with the right recipes – healthy.
Enjoy! California Avocados – what your heart desires.
Avocado Breakfast Recipes
Tofu-Vegetable & Avocado Breakfast Scramble Recipe
A vegan, hearty and nutritious fruit and veggie-packed breakfast with a cholesterol-free eggless scramble. Provides an excellent source of protein (24% DV).
Tropical Avocado Breakfast Parfait Recipe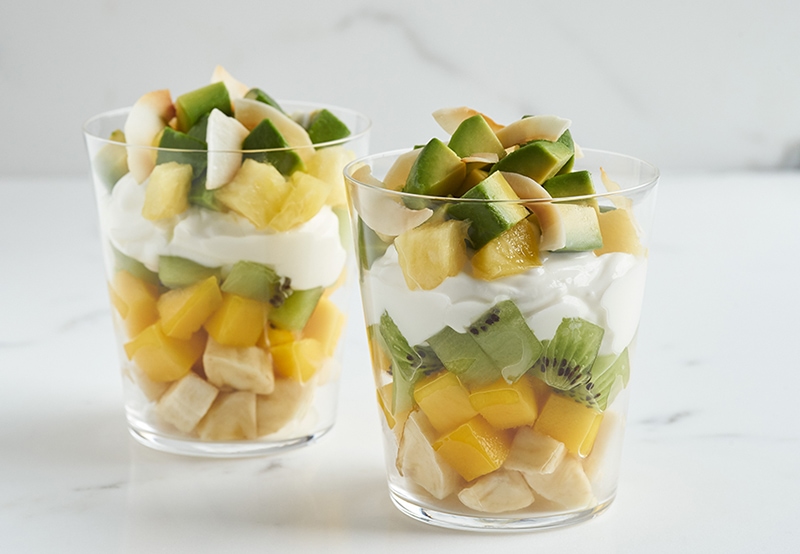 This good-for-you breakfast provides a good source of protein and potassium along with an excellent source of vitamin C, fiber and good fats from avocados. All the sweetness you need comes from fresh fruit and yogurt, so there's no sugar added.
Avocado Lunch Recipes
Creamy California Avocado Mixed Greens with Shrimp Recipe
Don't pass on this delicious and nutritious shrimp salad with California Avocados providing 100% DV vitamin A, 60% DV vitamin C, 28% Protein DV and 15% DV Iron.
Green Gazpacho with Kimchi Recipe
California avocados come together with cucumbers and yellow tomatoes to make a beautiful chilled soup. Full of antioxidant vitamin C, and fiber, this hydrating powerhouse is topped with kimchi for a kick of spice.
Quinoa Stuffed Grilled California Avocado Recipe
Nutty quinoa and tart lemon pair well with creamy California Avocado in this super-easy stuffed avocado recipe. Zero cholesterol, low-sodium, an excellent source of vitamin C and fiber (24% DV). Enjoy!
Avocado Snack Recipes
Grilled Avocado Mango Guacamole Recipe
Grilling avocado takes guacamole to a whole new level intensifying its rich, buttery flavor. The sweet and juicy grilled mango pairs perfectly with the warm dip and balances out its spiciness.
Gluten-Free Bean-LT Avocado Toast Recipe
This savory gluten free avocado-toast recipe is a vegan alternative to the traditional BLT sandwich. The creamy avocado, chunky white bean mash, tomato and crunchy romaine on toast makes a filling, fresh and nutritious snack, breakfast or lunch. Plant-based protein, veggies and healthy fats all in one.
A traditional guacamole filled with wholesome ingredients and heart-healthy avocado is simply delicious and comes together in just a couple of minutes. Give me a scoop, I'm going in!
Avocado Dinner Recipes
Grilled Salmon with Avocado Broccoli Rice Tabbouleh Recipe
This grain-free twist on tabbouleh salad pairs beautifully with Mediterranean-herbed salmon for a heart healthy dinner. We call this healthy recipe our nutrition powerhouse dish because it provides a more than 100% of the daily value of vitamins B3 (18 mg), an excellent source of vitamin C (90% DV), potassium (30% DV), vitamin E (25% DV) and fiber (21% DV). The Dietary Guidelines for American recommend you get more vitamin D in your diet and this dish provides you with 7 mcg or 35% DV.
Pasta with Oven Roasted Vegetables and Avocado Recipe
Penne pasta is tossed with balsamic-roasted vegetables then topped with creamy Fresh California Avocados. This vegan recipe is packed with delicious vegetables.
Grilled Chicken and Avocado Quinoa Pilaf Recipe
Red quinoa pilaf combined with California Avocados, bell peppers, and grilled chicken makes for a satisfying and nutritious meal providing 100% of daily vitamin C needs and 56% DV protein.
Avocado Side dish Recipes
Avocado Berry Salad with Kombucha Vinaigrette Recipe
A wonderful medley of fresh fruits and veggies, California Avocados and a kombucha vinaigrette that adds probiotics makes one delicious and nutritious meal.
Curried Sweet Potato Noodle Salad Recipe
A sweet and spicy fruit and vegetable salad that features crisp sweet potato "noodles" with apples and a creamy curry avocado dressing. You can enjoy this recipe knowing you are getting less of what you don't need (cholesterol free and on 4 mcg of sodium) and more of what you do need; an excellent source of fiber and calcium and a good source of potassium and protein.
Cauliflower Couscous with California Avocado Recipe
Made with cauliflower rice which has less calories than rice (white rice almost 5 times the calories/brown rice more than 4 times the calories) this heart-healthy couscous is delicious and nutritious providing an excellent source of fiber and vitamin C along with a good source of potassium.
California Avocado-Kiwi Relish Recipe
This tangy, sweet and spicy relish made with our easy quick-pickling method is the perfect addition to fresh fish, tacos, hot dogs, burgers, sandwiches, or can simply be enjoyed with chips. With an excellent source of vitamin C and a good source of fiber, you can feel good about this topper!
California Avocado Tri-Color Potato Salad Recipe
This tricolor potato salad is mayo-free and full of nutrients. It has a classic potato salad flavor with a fun twist from the addition of creamy avocado chunks and a tangy and slightly sweet non-fat Greek yogurt garlic-dill dressing.