I have been helping people lose weight for more than 20 years. Based on my experience with thousands of clients, I have found that providing some easy-to-remember tools and principles can contribute to their success and maintenance. So, here are 5 small changes to meet your weight loss goals:
1. Meal Planning
Start by making a weekly meal plan with recipes that are full of in-season fruits and vegetables, whole grains and lean proteins, including beans and legumes.
Then, make a shopping list so you have the ingredients available to make your meals. A list can help you avoid the temptation of impulse shopping.
Also remember to include freshly picked in-season produce, like California Avocados. They are picked at their peak in flavor and nutrition and are full of good-for-you antioxidants and phytonutrients.
2. Choose a Few Go-To "Convenience" Meals
Several years ago, I started introducing my clients to the idea of replacing one or two meals with a meal replacement smoothie. These smoothies are quick and easy to make, helping you stay on track even on the busiest days.
My Five Meal Replacement Smoothies use creamy, delicious California Avocados. Each of the nutritious smoothies are about 24 fluid ounces and about 220 calories. Plus, they're balanced with the three major macronutrients – carbohydrates, fat and protein. This helps you feel full and satisfied like a more solid meal would.
3. Find Fun Recipes to Avoid Healthy Food Boredom
I like to call them boredom busters. Let's face it, most weight management and weight loss plans typically don't contain much variety.
California Avocados may be just one ingredient, but this heart-healthy superfood can be enjoyed in a variety of ways. Here are some ideas:
Breakfast Bites: California Avocado Granola Bars, low in added sugar/sodium, vegan, peanut- and gluten-free for a food-sensitivity friendly snack.
Meal-Prep Made Easy: Two powerful heart-healthy foods, California Avocados and salmon, fuel this Stuffed California Avocado Mediterranean Salmon.
Pasta Presto: Boil water, roast veggies, add a whirl of the blender and presto…Roasted Vegetables Pasta with California Avocado Pesto Sauce — for a delicious high-protein (30% DV), high-fiber (46% DV) meal.
Sweet-tooth Satisfying: Simply California Avocado Dessert is a light, fresh and simple snack or dessert that delivers deliciousness and good nutrition with avocado, peaches and cottage cheese drizzled with honey sauce.
For other ideas, try any or all of these delicious Registered Dietitian Recipes or 15 Heart-Healthy Avocado Recipes.
4. Eat More Fibrous Foods
Fiber is your friend. Trust me! Fiber has many benefits, including adding bulk to help you feel full faster. For a good source of fiber that is creamy and smooth look to California Avocados.
5. Use California Avocados as a Substitute in Cooking & Baking
Did you know that California Avocados can replace foods like butter, mayonnaise and oil in cooking and baking?
It's so easy to incorporate these substitutions in your weight management program.
One simple recipe idea is to bake a healthier muffin. This Avocado Blueberry Muffins recipe replaces half the butter normally used in muffins with California Avocado to reduce calories, fat, sodium and cholesterol while increasing the "good fats" (mono and polyunsaturated fats).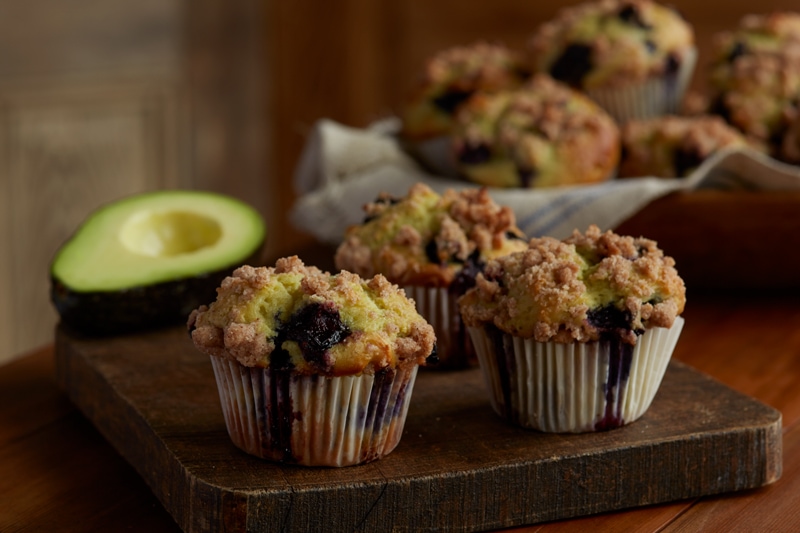 If you liked these 5 simple steps to lose weight, keep exploring! For even more reasons to include California Avocados in your weight management program, check out Six Ways California Avocados Can Help You Eat Healthy and learn more about how smoothies can help with weight management. To try my smoothie program, watch the videos from How California Avocados Can Benefit Your Weight Goals.