Turkey California Avocado Lavosh Wrap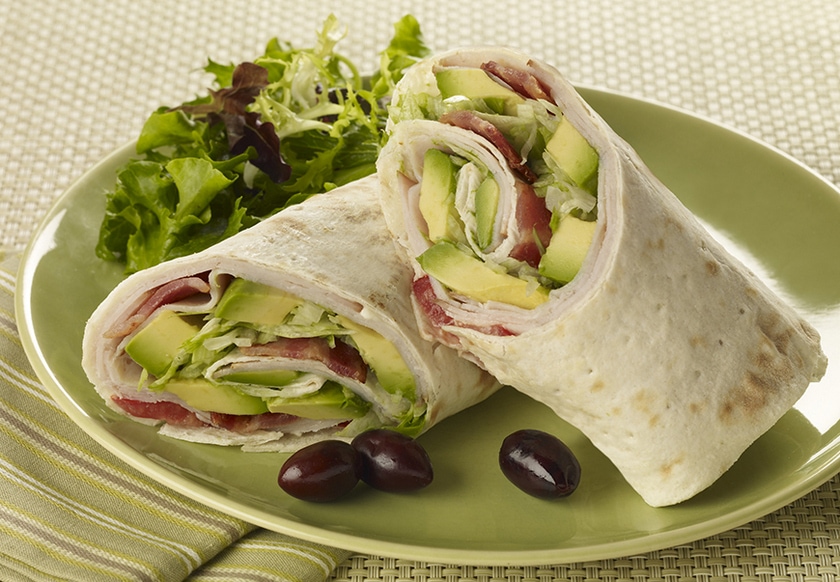 | | | |
| --- | --- | --- |
| 6 | | pieces Lavosh Bread, 18" X 14", cut in half to 9" X 14" |
| 3 | | lbs. House Brined Smoked Turkey, sliced |
| 6 | | each Fresh California Avocados, peeled, pitted and sliced* |
| 24 | | each bacon strips, cooked, crisp |
| 3/4 | cup | mayonnaise |
| 3 | cups | Iceberg lettuce, shredded |
| 24 | | slices tomato, fresh, cut in half |
Instructions
Per order
Layout lavosh and as assembling the sandwich, place all ingredients on two thirds of the surface to allow for rolling.
Spread 1 Tbsp. of mayonnaise on the lavosh.
Top with 4 oz. of sliced turkey.
Top with 2 slices of bacon.
Top with 4 half slices of tomato.
Top with 1/2 each sliced Fresh California Avocado.
Top with 1/4 Cups shredded iceberg.
Roll into a wrap and cut in half on a diagonal.
*A large avocado weights about 8 oz. as purchased.